ASCOM Driver for the QHYCFW2 by Frank
Download:
Problems?
Please contact Frank using the instructions here!
Instructions: (These instructions assume you have some knowlegde of ASCOM and using ASCOM Choosers)
Download using the link above
Install the filterwheel USB drivers and connect your QHYCFW2 using the instructions on the QHY Website (For more info also see the

QHYCFW2

Manual page here...)
Open your ASCOM complient capture software (ie. Nebulosity, MaxIm DL, etc)
Select the ASCOM filterwheel chooser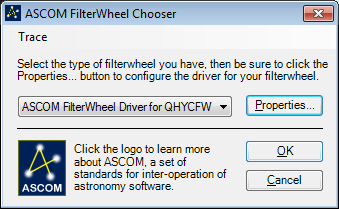 Select "ASCOM FilterWheel for QHYCFW2" as shown above.
Click the Properties Buttton
Select the Comm Port the represents your FilterWheel
Once the Comm Port is selected Click the "Create List"
Be Patient and WAIT! If you have selected the correct Comm Port then the Filter Wheel will initialize. ("Not Reposonding" might display during this time!) After about 20 seconds a generic Filter List will be generated. NOTE: The QHYCFW2-L (Large filter wheel) may take more time to initialize.
Edit the Filter List to your filter's types.
OPTIONAL: You may adjust the focus offsets for each filter. Usually you will leave the Offsets at '0'...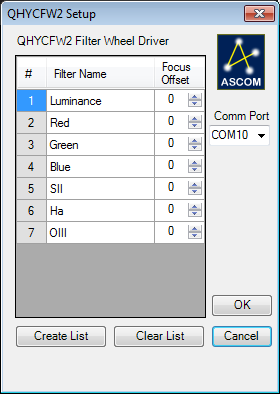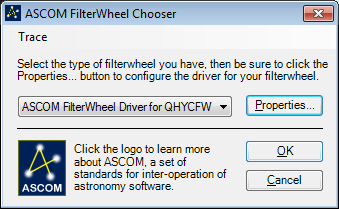 ...and Select "OK" on the ASCOM FilterWheel Chooser
BE PATIENT Please WAIT as your imaging software may be unresponsive for 20 seconds or so as the Fiterwheel hardware resets.
If you get the following error in Nebulosity...
...then exit and restart Nebulosity, open the chooser, Select "ASCOM FilterWheel for QHYCFW2", and then just select "OK".
Nebulosity should now start the filter wheel without issue.
Last Updated: 2015/09/26 11:01 PM